Running a Modern Practice in a global village – the story of Trilogy and Inspire Success
"Xero and enableHR allows us to manage our business in Australia from Santiago, Chile. It's magic!"
Rae Phillips
Director and Founder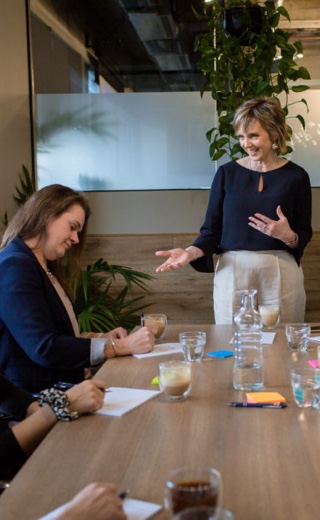 Xero and enableHR Partner ecosystem enables an Australian business director to run her HR business from Santiago, Chile
It wasn't that long ago that the Human Resource department was the exclusive domain of large corporations even though employment legislation and workplace safety impacted all businesses no matter what their size. These days, while HR compliance continues to be more important than ever, and businesses still struggle with meeting their legal obligations, cloud-based HR solutions now provide wide-ranging HR capabilities to businesses large and small.
Indeed over the past 15 years leading HR services provider, Inspire Success, has built its business on helping SMEs protect their businesses and comply with HR rules and regulations. The ability to deliver the benefits of large organisation HR capabilities to SMEs was one of the key driving forces behind the company's decision to partner Australia's leading cloud-based HR management solutions, enableHR.
Director Rae Phillips comments, "Our mission at Inspire Success is to make the people part of running a business easier. As a small business owner myself with staff operating remotely, I appreciate the need for my team to have easy access to centralised and up-to-date resources and tools anywhere, any time. enableHR delivers strategic, just in time HR support to a growing number of our national clients."
Inspire Success' clients have the choice between managing the system in-house, bundling enableHR with additional HR services like implementation training or have Inspire Success manage and implement all HR requirements on their behalf.
As Rae transformed her own business to take advantage of cloud-based solutions, she recognised the advantages of partnering with like-minded businesses which was a key factor influencing her decision to appoint financial services firm Trilogy Professional Group to manage her business accounts.
Xero silver partner, Trilogy Professional Group (Trilogy) is the embodiment of the Modern Practice. As a leading provider of the full spectrum of financial services to businesses and individuals, the company embraces new technologies and emerging online software programs. With the mantra "we aim to grow your beans not just count them" Trilogy Professional Group's diversified offering includes business software installation services, bookkeeping on Xero, accounting and tax, cash management and budgeting as well as business advisory services.
As a Xero partner, Trilogy offers a rapidly growing number of their clients the ability to control their finances anywhere, anytime via the cloud without the need for an upfront investment in software.
"Xero and enableHR allows us to manage our business in Australia from Santiago, Chile. It's magic!"

Rae Phillips, Director & Founder
Principal of Trilogy, Rod Evans, comments, "Xero gives businesses like Inspire Success peace of mind knowing their accounts are up to date and all lodgements are completed on time with minimal effort on their part. At the same time, it gives us secure access to a client's up-to-the-minute business financial records allowing us to have our finger on the pulse of the business at all times. In this way, Xero not only streamlines and simplifies financial management for a business but can also help business owners make timely decisions to maximise opportunities and minimise risk."
While Inspire Success benefits from Trilogy's cloud-based financial services, the gains are not only one way. Indeed, the financial services firm enjoys strategic HR capabilities and best practice HR and WHS processes from enableHR. As a Modern Practice, Trilogy also works hand-in-hand with Inspire Success to help solve their clients HR challenges. By using enableHR as the preferred HR management add-on to Xero, Trilogy's clients benefit from world-class financial, operational, and people management capabilities. For Trilogy, the Xero partner ecosystem and the two tools form the cornerstones of their Modern Practice.
The move to building and running Inspire Success on cloud-based business solutions has proved to be prescient for Rae. When her husband was offered a once-in-a-lifetime global role in Chile, Rae realised that she could relocate her family to South America yet still be heavily involved in running her business on a day-to-day basis by using enableHR's Partner Portal to access her clients' enableHR subscriptions. Using Xero's 'My Xero Advisor Dashboard' Trilogy works collaboratively with Rae in the management of her financial accounts regardless of her location.
Rae, who started her new role in Chile in mid July, describes the move to run her business through cloud-based services as "inspired success".
More stories from enableHR customers