Building a High-Performing Culture with enableHR
"I can jump into an employee's PR and see their goals and where they're at, then tie this back into our L&D programs. The software has really improved our efficiency, from record-taking to actioning and tracking L&D."
Andrew Nguyen
HR Coordinator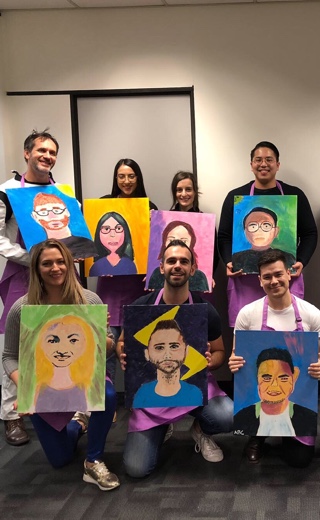 FCB Group is a high-performing culture with a streamlined performance management process that just works, all thanks to enableHR.
Andrew Nguyen, HR Coordinator at FCB, is part of a team of three helping to manage the careers of 106 employees across Australia and New Zealand. Their Performance Review process includes two formal reviews a year – a six-monthly check-in and an annual review, mid-year, that ties into salary reviews. Besides these, managers have an 'open door' policy to staff and offer informal feedback throughout the year.
Andrew acknowledges that performance reviews can be challenging. "Not so much when people are performing," says Andrew, "but if people are underperforming it can make for some difficult conversations that many managers would rather avoid."
In many businesses, performance reviews have issues with communication, transparency, identifying areas for improvement, tracking and recording goals and objectives, and consistency. Performance review processes have to deal with busy Managers, different management styles and often no set format – something which can disadvantage some employees over others. There's also the problem of accurately representing conversations between managers and employees.
At FCB Group they've used enableHR to create an innovative PR process that does away with these issues.
"We have none of the usual issues with performance reviews that a lot of other companies experience," says Andrew. "enableHR is consistent and incredibly flexible – it measures against Key Result Areas that we can completely customise, and we can have different KRAs in our six-monthly reviews to those in our annual reviews. This is means we can have six-month reviews that are more open-ended and conversational, and annual reviews that are more formal and tie into our budget and salary reviews because we're measuring different things. The platform's also really efficient – our entire PR process takes around two weeks to complete from launch to close."

Andrew Nguyen, HR Coordinator
Creating Conversations
One of the prime benefits of enableHR performance reviews for FCB Group is in opening up communication between managers and their teams. The accessibility and transparency of the process makes it easy for managers to gauge performance and have constructive conversations around it. And, for employees, it provides a useful reflection tool for self-improvement, goal setting, and learning and development.
"It gives our managers a lot of confidence because it's so easy to use and consistent. They know what to expect, as do the employees, and it's very transparent which builds trust in both the system and the information recorded in it."
Outside of the formal review process, the platform still comes in useful: helping managers with the day-to-day informal communication and goal-setting that helps their team perform throughout the year.
Building a Culture of Transparency
And it's not only managers who're reaping the benefits.
Staff members are able to use the platform as an avenue to raise career aspirations and identify goals and skill gaps. Staff can record goals and development objectives via the Employee Self-Service portal. If these goals tie in with the review, staff and managers can set them as formal objectives and record the outcomes for the next review. The employee also has the option in ESS to set personal objectives, outside of the formal review process.
"Our employees can access ESS anytime, whether at home or at work. Having the Employee Self Service portal is great for building a business culture that values transparency. It allows both manager and appraisee to hold each other accountable, which has helped build some terrific working relationships between staff and managers."
Slashing the Admin
enableHR also makes a measurable difference to Andrew's working day. He doesn't have to field endless queries from staff, as they can easily view their Performance Reviews at any time via the Employee Self-Service portal.
"It's almost a set and forget tool," says Andrew. "Sometimes I need to send reminders. But these are mostly automated reminders, with the software giving the staff all the prompts they need to complete their PRs. The automated workflows cut out a lot of the routine admin I used to do, for example, enableHR will do things like automatically sending a PDF of the PR to both manager and employee."

Andrew Nguyen, HR Coordinator
He also finds the platform makes it much easier to manage Learning & Development: "I can jump into an employee's PR and see their goals and where they're at, then tie this back into our L&D programs. The software has really improved our efficiency, from record-taking to actioning and tracking L&D."
Consistency, Confidence and Conversations
In a high performing culture – where people want to move hard and fast with their careers – the enableHR platform allows FCB Group to capture employee career goals and support them at every step.
It's a platform Andrew Nguyen reckons he couldn't do without. "It's a fantastic platform, easy to use, efficient, comprehensive in the data it can collect; I can do so much with it. It creates consistency and confidence in managers, facilitates open-ended conversations around performance, and ensures every FCB employee gets the same experience."
More stories from enableHR customers