Pyrotek shifts the focus from paper to people
"I've always believed I should have time in my day that's free; you never know who's going to walk through your door and need your help. enableHR has given me the space I need to focus on my role."
Sean Dillon
General Manager, Pyrotek New Zealand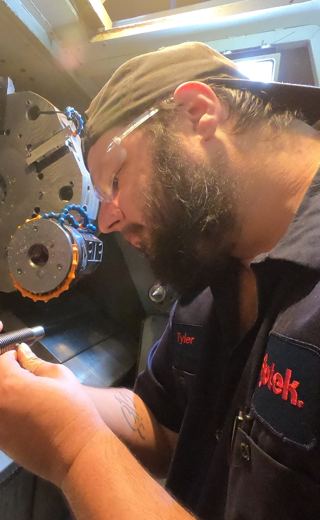 Global engineering and manufacturing leader, Pyrotek, delivers breakthrough solutions in aluminium and thermal solutions to over 35 countries across 80 locations, including Auckland and Invercargill. In New Zealand, Pyrotek uses enableHR to simplify compliance and maximise the success of employees.
Pyrotek New Zealand's General Manager, Sean Dillon has worked at Pyrotek for over four years and stepped into the role of General Manager in January 2018. Dillon describes the culture at Pyrotek as curious, innovative and true to the same values the company has had since it started in 1956. "There's a freedom behind working at Pyrotek. If you've got an idea you can run with it," Dillon said. Fittingly, this success story began with a simple idea: to cure death-by paper. Here we share how Dillon led Pyrotek New Zealand to shift its focus from manual HR processes to people.
Switching to an HR software just made sense
Storing paper was an issue
The filing cabinets had to go. It started the day Dillon took over as General Manager of Pyrotek New Zealand. Two big, beige filing cabinets were taking up space in his otherwise roomy and sun-filled office. Dillon recalls: "They were packed full of personnel files, contracts, policies and other HR documents." Pyrotek's HR paper trail extended beyond Dillon's office in ad-hoc places across the Auckland and Invercargill locations, which made it challenging for managers to access records if they were off-site.
"Information was so spread out, it was hard to have what you need on hand."

Sean Dillon – General Manager, Pyrotek New Zealand
Policy gaps
Dillon also saw an opportunity to develop the suite of workplace policies that Pyrotek New Zealand inherited from their global headquarters. He recognised the need for iron-clad, New Zealand-specific guidelines that would prevent his team from having to guess what was expected of them. "Locally, we were missing key policies like a motor vehicle policy. And we had other policies, such as our drug and alcohol policy and an employee handbook that could do with a refresh," Dillon said.
Paper-based performance reviews
Pyrotek's annual performance review process was informal and paper-based –another area Dillon had his eye on to improve. Reflecting, he says: "I liked the idea of having a formal structure that would support meaningful and measurable conversations around performance; we just needed the right process."
An HR solution built by lawyers
In past companies, Dillon had used platforms such as Microsoft SharePoint for employee record-keeping. But enableHR promised a more robust and intuitively compliant solution; it allowed Dillon to go beyond online record-keeping and really reshape HR at Pyrotek. With enableHR, Pyrotek could take advantage of up-to-date policy templates, checklists, and a modernised performance review framework.
"I remember when I first saw enableHR and being taken through the workflows – like the disciplinary process – and I felt sure that this was a solution I could be confident using. And quite right, it was built by lawyers."

Sean Dillon – General Manager, Pyrotek New Zealand
The making of an enableHR expert
Once Pyrotek decided to implement enableHR, Dillon set to work setting up the solution. He says: "Every few days I would grab a bunch of records and start scanning files and documents – everyone in the office thought I was a bit crazy."
His dedication paid off. After three months of juggling day-to-day general manager duties and Pyrotek's HR project, Dillon had single-handedly implemented and launched enableHR, becoming a competent user in the process.
HR made simple
Efficient. Accessible. Compliant
The value gained from having Pyrotek's HR documents in one centralised location was evident immediately. Managers could access what they needed when they needed it. Dillon says: "If I'm overseas travelling for work and we have something come up, I can log in to the system from wherever, and the same with any of my team." And, having legally compliant templates at his fingertips enabled Dillon to update Pyrotek's suite of HR policies and produce a new employee handbook in record time.
All bases covered
Because enableHR saved Pyrotek from having to hire an HR administrator in-house, it was cost-effective for the business to engage an independent HR contractor part-time. Dillon says: "It's useful to have someone part-time who can support us around the pricklier HR processes. Plus, our people have an independent person who they can call at any time."
From the office to the factory floor
Dillon leaned on his factory and branch managers to bring the benefits of enableHR to the factory floor. With enableHR's performance management tools, Dillon's management team shape development conversations around individual and organisational goals. Now, the team spends less time chasing paper and more time focusing on the business and its people.
"Handy" during the COVID-19 lockdown
During the COVID-19 lockdown, Pyrotek continued to operate and provide materials that were critical to the supply chains for food and beverage, and healthcare. While in the unprecedented position of managing an essential business through a global pandemic, Dillon says: "It was a huge advantage for the team to be able to access information such as team contact details and policies from home. The COVID-19 templates and resources that enableHR added to the software came in handy too."
From zero HR resources to a total HR solution
 "At the time I started, I had zero HR resources. enableHR gave me an easy way to get everything online, and the system gave me a framework and tools to work with to get our HR in order."

Sean Dillon – General Manager, Pyrotek New Zealand
Since implementing enableHR, Pyrotek has ditched a lot of paperwork, simplified compliance and embraced positive, proactive performance reviews. And that's not all. Dillon discovered that enableHR gave him another edge as General Manager – more time. He says: "I've always believed I should have time in my day that's free; you never know who's going to walk through your door and need your help. enableHR has given me the space I need to focus on my role." For example, he explains, "Contracts used to take me hours, now they take me 10 minutes."
It's been three years, and to Dillon, enableHR is just another part of the business. The way he describes it is: "I couldn't imagine using another HR software; we get everything we need from enableHR".
Is your business ready to learn more about the many ways enableHR can support your business or franchise? Contact us for a non-obligatory and free demonstration.
More stories from enableHR customers