Lifestyle Choices keep it simple: How one organisation successfully transformed HR
"When onboarding new employees, there's no plan B: enableHR is the way we do things. New staff use it so well"
Mary-Ana Prodger
Financial Administrator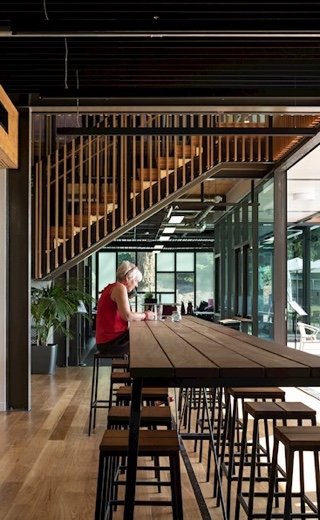 Lifestyle Choices
When "Keep it simple" is the guiding principle for an organisation managing change, the results speak for themselves; a successful implementation, high staff engagement and a positive start with their new HR solution. One year on, we take a look back with Lifestyle choices and celebrate their journey with enableHR so far.
Lifestyle Choices is a vibrant service-delivery organisation supporting people with disabilities. With a head office in the heart of Tauranga, New Zealand, their energetic team of around 53 support workers serve clients in local communities across the Bay of Plenty region, from Waihi beach to Paengaoroa.
The Challenge
Manual paper processes
Until a year ago, Lifestyle Choices used pa – per-based processes and a legacy HR system that required a lot of manual work – a system which was 'all input, no output'.
Lack of visibility over HR information
Managing policies and staff was a challenge be – cause the legacy system didn't allow employees and managers to view, share and update relevant HR information.
The rise of technology in the workplace
The Lifestyle Choices team saw that falling behind the advances in technology for modern workplace practices would eventually make their HR record-keeping and compliance a problem, so they looked for a smart solution that could help modernise their HR processes and manage compliance at work more efficiently: enableHR.
The Change Process
Managing change across such a diverse and remote workforce was handled strategically within the business by enableHR champions: Mary-Ana and Wendy. The staff had, in their words, an 'Initial freakout' when enableHR was introduced, but the HR team, with their contagious positive attitudes, kept their cool and worked through the required changes. The team knew that adjusting to any new system takes time and patience. In the end, it took less than eight weeks to get the core of the enableHR system up and run – ning. It took another few months for users to familiarise themselves with the many features of the system and decide how they wanted to customise their enableHR checklists, electronic records and templates.
Phase 1: Introducing the enableHR Solution
"When onboarding new employees, there's no plan B: enableHR is the way we do things. New staff use it so well"

Mary-Ana Prodger, Financial Administrator at Lifestyle Choices
As the enableHR implementation process wrapped up, managers and leaders were introduced to the enableHR system. They were able to experience firsthand how the new HR solution removed much of the administrative burden of managing their people. The people leaders and managers at Lifestyle Choices were steadily won over by the boost in efficiencies and having more time to focus on work they were truly passionate about. Today, apart from asking the occasional question or requiring a gentle reminder, existing employees have strongly taken to the system. Meanwhile, new employees are inducted, from day one, with enableHR, and find onboarding and employee self-service easy to use.
Phase 2: The Path to Success
Training in-house experts
A system is only as effective as the knowledge of the people using it – this is something the Lifestyle Choices team understood. The team made training a priority for the next step, focusing on training managers and people leaders to learn the ropes. Part of this process involved changing some of the initial system setup to greater align usability to the specific needs of the wider team.
Customised Agreement templates
Not long after Lifestyle Choices was up and running, the HR team worked with enableHR to customise their system templates for variation agreements. During the pay equity changes for care and support workers in 2018, having these custom agreement templates in enableHR made it 10 x easier and faster for employees to read, sign and return their variation agreements and acknowledge the changes. The support workers at Lifestyle Choices could do this completely online, from any device. The combination of enableHR's Cloud-based technology, customised templates, and employee Self-service (eSS) feature, worked together to slash manual administration times for workers and managers.
Launching Online Performance Reviews
With trained and confident users finding their enableHR flow, attention turned to rolling out enableHR's Online Performance Review (OPR) process. The HR team was ready to say goodbye to paper-based employee reviews once and for all. Feedback on the new paperless review system has so far praised the workflows that make development conversations and goal-setting more effective than is possible with graded paper forms. Managers and team leaders can take ownership of the review process with their people. The HR team and enableHR champions at Lifestyle Choices are proud to see that they are often only called into help with a review process if there is a technical query.
enableHR "Feature Awards" as Voted by Lifestyle Choices
We asked Lifestyle Choices to weigh in and vote for their favourite feature in enableHR!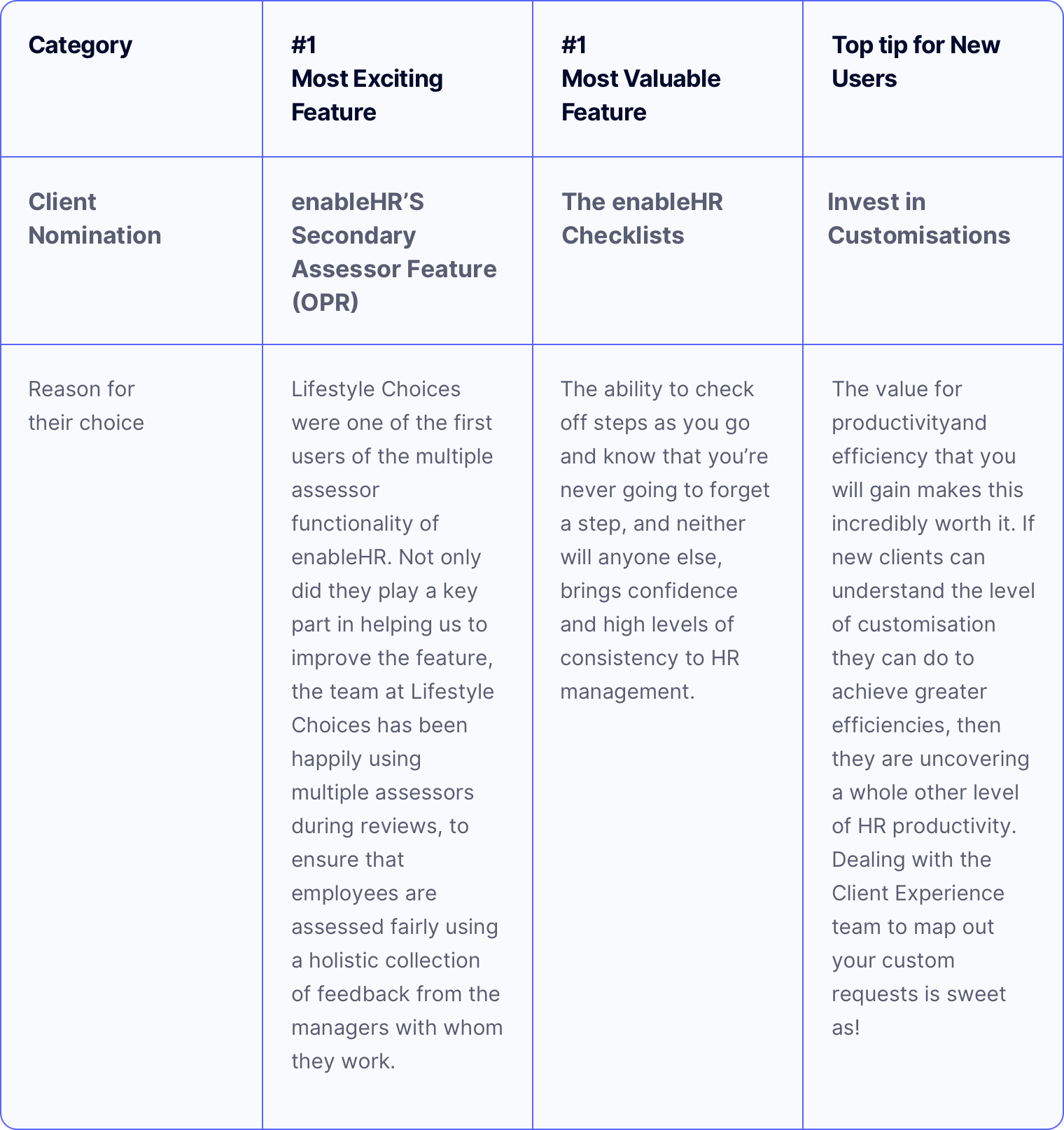 Lifestyle Choices and enableHR: One Year On
A year on, and there's a unanimous sigh of relief and pride from the team at Lifestyle Choices when reflecting on what they've achieved. HR processes across the organisation now move faster and more efficiently. The organisation plans to continue to train users and embed enableHR into day-to-day practices. Managers are being taught how to extract and use the data from enableHR to empower leaders to report and manage their teams effectively.
"Yesterday it took 10 minutes to send a letter of offer and agreement to a preferred candidate…it was signed and returned that same afternoon!"
When we first met Lifestyle Choices, we knew that we'd be a great fit. We saw how enableHR's core functionality would help their HR team achieve their goals. In the last year we have seen Lifestyle Choices empower their employees and team leaders, centralise and streamline processes and ultimately put less input in for more output! Thanks to their tech-savvy, 'can do' attitude, the team at Lifestyle Choices were able to make smart choices about the technology they wanted, successfully implement it, and use it to transform the way they do HR. It is easy to get lost in the change process when implementing a new technology solution, but Lifestyle Choices has shown how you can make it easy to achieve incredible results as well. Just by keeping it simple and focusing on one milestone at a time. enableHR are proud to be Lifestyle Choices' HR solution and to have had the opportunity to watch this organisation take workplace transformation in their stride.
More stories from enableHR customers