enableHR helps AHG to enable dealerships to manage HR processes
"enableHR has been enthusiastically adopted by our dealerships as its given them more power to engage new employees and perform HR processes with them directly. "
Darren Grant
HR Relationship Manager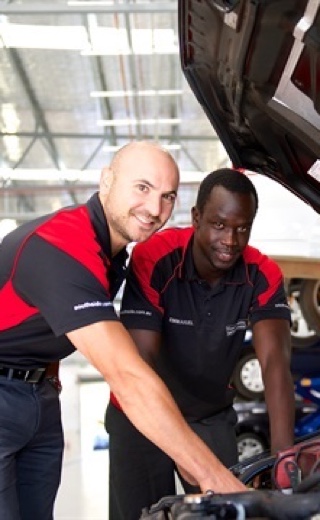 AHG is Australia's largest motoring group with over 4,500 employees, operating over 100 sites and service centres across Australia. The AHG HR leaders are not only motivated to allow the dealerships to engage and manage their employees without dependence on the state offices, to ensure company policies are followed, but also to ensure employment risks are considered and that issues are escalated to HR when appropriate.
HR Relationship Managers are responsible for a group of dealerships in their territory. In the pilot territories of NSW and VIC, two Relationship Managers assist with the management of 1000 employees.
AHG introduced enableHR to enable dealerships to manage common HR processes within a framework and constraints established by Relationship Managers. enableHR assists dealerships and their Dealer Principals with:
Performing Recruitment Approval (headcount) and Pre-Employment processes
Automated Contracts of employment
Recording Probation Reviews, Performance Reviews and Counselling
Terminations for Poor Performance and/or Conduct
Store Employee Files online including, documents, file notes and reminders for Line Managers to follow up employee management challenges.
Critically, the processes and content are AHGs own. enableHR facilitates their execution and overcomes the many geographic challenges to drive a consistent workplace policy & culture.
To dealerships, the benefit of enableHR is the freedom to complete common HR tasks, including interviews, drafting employment contracts, reviews and common HR letters with the added confidence for managers to manage their staff in legally-compliant best practice.
"enableHR has been enthusiastically adopted by our dealerships as its given them more power to engage new employees and perform HR processes with them directly. This was important as the successful management of the employment relationship by our Line Managers helps assist AHG to drive its strategic objectives of expansion across Australia. The set up and integration has been relatively straight-forward and responsive, and the system has freed us to focus on strategic HR issues"

Darren Grant, HR Relationship Manager
To the HR Relationship Managers, the benefit of enableHR is that it frees them up to focus on higher-level HR activities with the comfort their processes are being followed and that the employment relationship is being managed consistently and soundly across geographic areas.
To the State Managers, the benefit is visibility of the processes. The teams also report on the status of employment workflow within their dealership, state or company, and access a common view of employee files and notes.
For AHG, enableHR compliments the existing payroll, employee self-service and employee induction systems. The roll-out to additional states and dealerships is continuing.
More stories from enableHR customers