New casual conversion resources LIVE in enableHR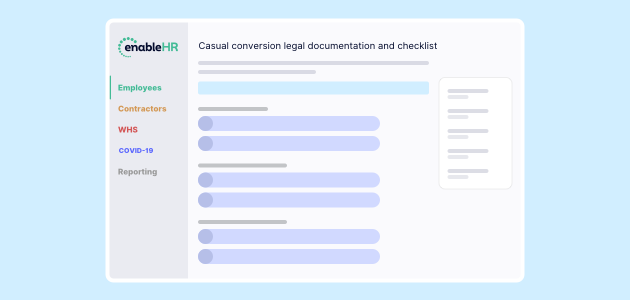 22 March 2021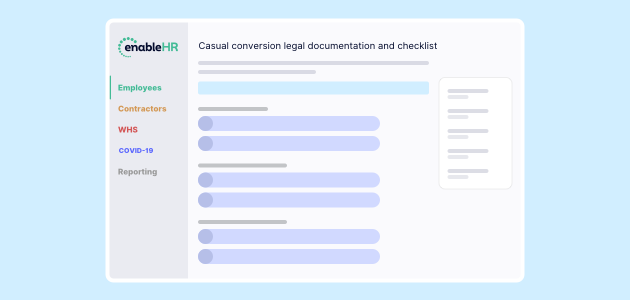 Last year, the Australian Government introduced the Fair Work Amendment (Supporting Australia's Economic Recovery) Bill 2020, which proposed changes to the Fair Work Act 2009 and other legislation.
Last week, The Senate reviewed this Bill and today it passed just one of the Government's five proposed IR reform changes. Medium and large businesses must now offer casual conversion to casual employees after 12 months of employment (and six months of consistent work) or justify why it should not.  Small businesses are exempt from offering casual conversion however, employees can request it.
To help you understand these changes, we've written an in-depth article on the topic.
To ensure enableHR clients' businesses are compliant with the new casual conversion legislation, the team at enableHR has launched a range of new legal templates and checklists. These are additional resources that have now been added to our growing library of templates and include:
Casual conversion checklist (to help you navigate the multi-faceted process of offering conversion);
Letter explaining why a business does not need to offer casual conversion;
Letter offering full-time conversion;
Letter offering part-time conversion; and
Letter confirming permanent employment.
enableHR is also in the processing of finalising the drafting of additional documentation and reviewing existing templates to add to our library of resources including:
Casual conversion request checklist;
Letter of casual conversion acceptance; and
Letter of casual conversion refusal.
If you have any questions or concerns about the information in this email, please contact the Client Success Team at support@enablehr.com – we're always here to support you.