Meet enableHR's newest team member, Vaasugi Velmurugu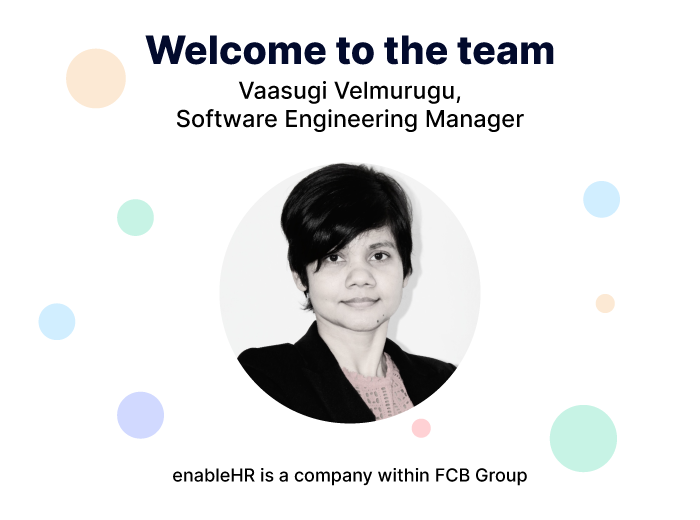 20 May 2021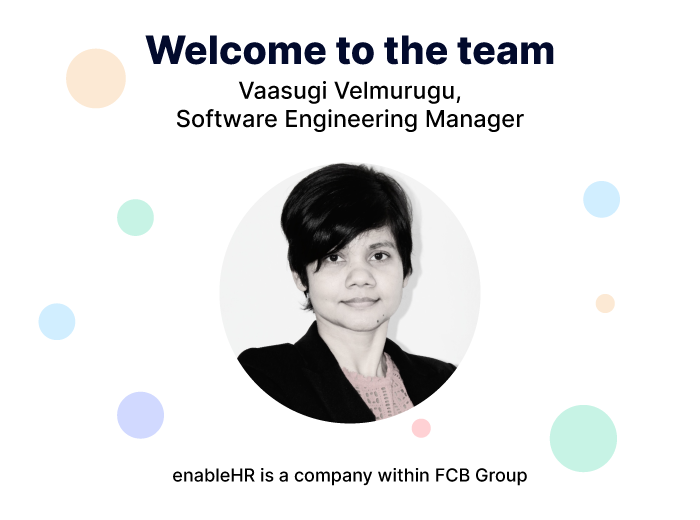 By Annette Micallef
enableHR is growing – you only have to take a look at our company LinkedIn page to see we're on the hunt for quality tech talent! And recently, we got lucky – we filled the role of Software Engineer Manager and welcomed Vaasugi Velmurugu to the enableHR team.
Vaasugi's role is incredibly fast paced. It's her job to ensure that enableHR's tech projects are running efficiently and on time. Here I managed to get five minutes with Vaasugi to discuss her role and learn more about her.
What is your role at enableHR?
I am the Software Engineering Manager for enableHR. Essentially, I use my leadership, people management and technical skills to ensure the people in my team stay motivated, that they're progressing in the right direction and that all of the projects we're working on are being taken care of and delivered as expected.
Tell me a little bit about your career and how you got to where you are today.
I have more than 10 years of experience in software engineering. I started out as a software engineer back in Sri Lanka with the LSEG Technology, a subsidiary of London Stock Exchange Group – this is where I was introduced to some large-scale, distributed, complex stock exchange platforms and worked with some seasoned software engineers. I was part of building the stock exchange platforms that power exchanges across the Americas, Europe, Asia and Africa. I moved to Australia for better career and life prospects and continued to work for the financial markets. Later I made the move into Foreign Exchange, when I joined IC Markets. This is where I transitioned from being an individual contributor to an engineering manager.
What does a typical working day look like for you?
I would say communication is a major aspect of my role. I have to communicate well with a lot of people inside and outside of my team. I need to plan the team's work ahead and I need to ensure that expectations are set appropriately, and everyone is clear about what the goals are. I need to keep the team on track and make sure that they progress towards the goal.
Before working at enableHR, what was the most unusual or interesting job you've ever had?
When I was doing electronics and telecommunication engineering for my bachelor's degree, I did a research and development in the labs of Tritel Telecom, a Sri Lankan private telecom firm. In their labs, with the guidance of the engineers, I built the coin validator component of an automatic money exchange machine, which was the final year electronics projects of my group. The component was 100% accurate in its validation of the coins. I'd go to the lab every week to work on those components, which was something I really loved.
What advice do you have to prospective enableHR employees?
You need to be the right fit and have similar values to the company. The tech industry is agile and fast paced, and I've found when working for other organisations, the culture and the people to be quite aggressive, perhaps because people are just so busy. But what I have experienced at enableHR has been the extreme opposite – the culture is very positive, and the people are so nice. Yes, we are very busy, highly productive, and work efficiently but minus the negative culture – we all work together to get the job done.
What drew you to enableHR originally?
From the first interview, enableHR became very appealing to me – I had a really good conversation with the internal recruitment coordinator and the chief of technology and innovation about the role. It was a good interview process and I found that everyone I met was very professional.
What is on your wish list for the year ahead with enableHR?
It's really important that I get to know my team members on a deeper level so that I can help them not just in their job at enableHR but also in their career goals – a happy, collaborative team means success.
Do you have a favourite website or blog?
My go-to website is called Medium which has lots of dynamic ideas and articles that cover engineering and leadership topics, which is quite resourceful. I also like to keep up to date about current affairs and politics.
What's your hidden talent?
Um, I don't know whether it is a hidden talent, but I love writing poems and short stories.
Where is the best place you've travelled to and why?
I would say Estonia. It's a country in Northern Europe that is small but very colourful and interesting.
What would you do (for a career) if you weren't doing this?
I would equally love to be a politician or a film director. I love movies and when I watch films, I pay more attention to the direction than the acting. I'm really inspired by some of the great directors and have always dreamed of being a director myself. My favourite directors are Martin Scorsese and Steven Spielberg.
What kinds of hobbies and interests do you have outside of work?
Oh, I love hiking and kayaking. When I kayak, I stick to rivers such as the Hawkesbury or Middle Harbour and avoid the ocean.
Compliance is our strength, and we love helping others achieve it. With the resources available in enableHR, you'll have everything you need to be 100% compliant when managing your people.
See enableHR in action today! Contact us to learn more about how we can help your business get compliance right – all the time.
Annette Micallef is a Content Marketing Manager and works for FCB Group (enableHR's parent company). Annette is incredibly passionate and enthusiastic about marketing communications, and she is responsible for creating interesting and meaningful content across FCB Group's businesses. When Annette isn't creating e-Books, email campaigns and blogs, you can find her in the great outdoors; she loves being surrounded by nature and considers this to be her happy place where she finds inspiration and ideas.